Restaurants & Gastronomy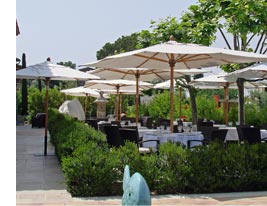 Piedmont, Italy is the gastronomic epicenter of the Slow Food movement. The Slow Food movement is the brainchild of Carlo Petrini, a man with a crusading cast of mind, who reacted in horror years ago to a McDonald's outlet opening near the Spanish Steps in central Rome. The movement is intended to promote everything that fast food is not — food that is individual, seasonal, craft-based, traditional, wholesome, time-consuming (if necessary) both to produce and to prepare, varied and based on local influences. Cherasco, is well known for its production of remarkable snails, which also happens to be the logo of the Slow Food movement.
Slow Food is appreciated throughout Cherasco and the areas of Piedmont. Some of the outstanding restaurants in the area are listed below:
Al Cardinal Mazzarino • Via San Pietro, 48 • tel: 0172 48.83.64
The restaurant in the lovely Cardinal Mazzarino Hotel and just around the corner from the Monastery. One of the best restaurants we have been to. Regional delicacies prepared incredibly well. Favorite!
La Torre • Via Garibaldi, 13 • tel: 0172.48.70.48
A small, lively Osteria with specialties of the house. Family run and excellent! Favorite!
Il Canovaccio • Via San Pietro, 32 • tel: 0172.48.84.31
New restaurant in a beautiful setting with courtyard. Just a couple blocks from the Monastery. A must.
Locanda nel Borgo Antico • Cascina lo Zoccolaio localita, Boschetti 4,
Barolo • tel: 0173.56355
www.locandanelborgo.it
Massimo is the charismatic chef at this amazingly well done restaurant. Excellent staff, and out of this world gorgeous setting in the vineyards. Best for a long, relaxing lunch. Favorite!
closed wed/thurs except in October. November closed wed
Boccadavino • Via Mendicita, 14, Bra • tel: 0172.42.56.74
The original Slow Food Osteria above the Slow Food Uffici in BRA. Very fresh, and very good. Great for an informal, delicious, local lunch.
Belvedere La Morra • Piazza Castello, 5 La Morra • tel: 0173.50.190 www.belvederelamorra.it
Restaurant at the top of La Morra on the site of the original castle. Views over the langhe in all directions. Tipical and very good Piemontese cuisine.
Trattoria del Castello • Grinzane Cavour • tel: 0173 262172
In the castello in Grinzane Covour. Gorgeous room and tipical menu.
closed tues
Le Torri • Castiglione Falletto • tel: 0173 62849
In the Hotel Le Torri halfway up to the castello. Great pasta, great view from terrace.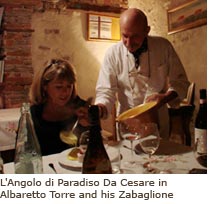 Villa Contessa Rosa
Ristorante Da Cesare
tel: 0173.626191/626184
Tipical, eclectic cuisine in a beautiful new location at the Fontanafredda winery in Serralunga d'Alba. Fixed Menu € 90.
open thurs-mon
by reservation only




La Coccinella in Serravalle Langhe • tel: 0173 748-220
Refined tipical creative in homey but elegant atmosphere.
closed tues/wed lunch
Trattoria Della Posta outside Monforte D'Alba • tel: 0173 78120
Refined ultra tipical cuisine in homey elegant atmosphere.
closed thur/fri lunch
Da Felicin in Monforte D'Alba • tel: 0173 78225
Refined tipical w/some non-Piemontese dishes including raw fish antipasto.
closed sun dinner/mon
Antine' in Barbaresco • tel: 0173 635-294
Wonderful refined tipical & creative, tiny, nice atmosphere and friendly people. "Michelin star" restaurant.
closed wed
Ciau al Tournavento in Treiso • tel: 0173 638-352
As much creative as tipical, a bit uneven but wonderful atmosphere & view.
closed wed/thurs lunch
Osteria del Arco • Alba on Piazza Savona • tel: 0173 63974
Ultra tipical and done with care. Beautiful brick barreled ceiling.

La Libera • Via Pertinace, Alba centro • tel: 0173 293-155
Tipical with a twist. Interesting menu and modern Italian room. Favorite!!

"Le beau coin d'Italie" — Napoleon