Vino
Barolo • Barbaresco • Dolcetto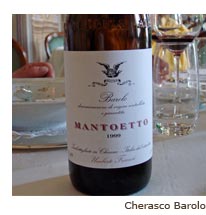 Barolo
There are 11 municipalities that produce Barolo in the Barolo DOCG: Barolo, Cherasco, Castiglione Falleto, Monforte, Diano d'Alba, Grinzane Cavour, La Morra, Novello, Roddi, Serralunga, and Verduno. This area encompasses the Langhe South/Southwest of Alba.
Barolo wine is made from 100% Nebbiolo grapes produced in the Barolo region. The wine undergoes an obligatory 3 years of ageing, two of which must be in wooden casks. "Riserva" Barolo has been aged in the cellar for at least 5 years.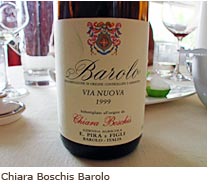 The bouquet is broad and decidedly fragrant. It is ethereal and has captivating hints of spice. In tasting Barolo, you can behold the flavor of the land in subtle and varied flavors, and a fine clear air in the aroma. It has a garnet red color with subtle orangey highlights. With age, it acquires a pleasant harmony. The minimum alcohol content is 13% Vol.


The ideal accompaniment to Barolo is traditional Piemontese Brasato (veal braised in Barolo), game, and mature cheeses.
DOCG decreed 1-7-1980
Barbaresco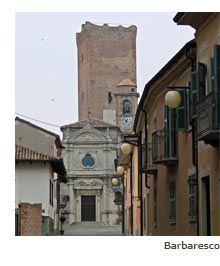 This wine is made from 100% Nebbiolo grapes cultivated in the municipalities of Barbaresco, Neive, and Trieso. East/Northeast of Alba. Barbaresco is a wine whose origins date back to Roman times. The Roman emperor Publio Elvio Pertinace was born in these hills.
Barbaresco wine undergoes an obligatory ageing of 2 years starting from the January after the grapes were harvested. At least 1 year of ageing must be carried out in wooden casks, preferably of oak. The "Riserva" Barbaresco undergoes a minimum of 4 years of ageing in the cellar. It is best enjoyed after a few years of ageing in the bottle and can withstand 20-30 years of cellaring. It has a very low alcohol content of 12.5%Vol.
The bouquet is broad, intense and persistent with hints of raspberry and red fruit jam, cinnamon, tobacco, and ethereal notes. The flavour is dry, well structured, and has an unmistakable elegance. It also has a lovely red garnet color with orange highlights.
DOCG decreed 1-7-1980
Dolcetto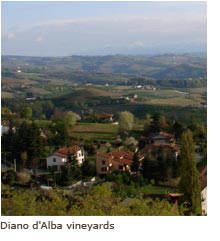 Dolcetto literally means "Sweet Little Thing" but the wine made from the Dolcetto grape is not sweet. The grape found in various areas of Italy is at it's best in Piedmont. In particular, Dolcetto thrives in the hilly country surrounding the wine town of Alba, where it competes for attention with the wines made from the famed nebbiolo grape (i.e. Barolo and Barbaresco).
Dolcetto is a delightful wine, and is not particularly tannic... which means that it is easy to drink and can be drunk young, even within a year or two after harvest.
There are seven Dolcettos recognized by Italian Wine Law. They all take their names from the towns or communities nearest to where they are grown. The three most important are Dolcetto d'Alba, Dolcetto d'Diano d'Alba, and Dolcetto Dogliani. Most of the winemakers we know also produce Dolcetto. Ceretto, Aldo Conterno, Bruno Giacosa, Elio Grasso, and Renato Ratti. Even Angelo Gaja makes Dolcetto.
According to some experts, the Dolcettos around Alba are softer and more velvety. Dolcetto in general is an easy going wine that is easy on the palate and easy on the pocketbook. Last night we enjoyed a delicious Dolcetto that was $14.99! A 2006 Elio Grasso Dolcetto d'Alba.
Diano d'Alba is a famous Dolcetto area and a beautiful village with a panoramic view in 360 degrees. Go up to Diano di Albe and catch the best view of Mont Viso and taste some Dolcetto. This year the Dolcetto Wine Festival was held in the little village on March 9th.
Characteristics
Color: Deep ruby red with purple hues
Nose: Fruity (Black Fruits), Floral (violet), Spicy (Licorice), toasty
Palate: Good acidity and alcohol, light tannins, and medium body

"Le beau coin d'Italie" — Napoleon